A bridge between poets, artists and women in Swaziland.
"Le fil des Mots", an exhibition of embroidered poems, conducted in collaboration with the Poetry association "Printemps des poètes", with the contribution of artists and fashion designers, and the support of Bristol Myers Squibb.
CONCEPT
Launched in 2010, "Le Fil des Mots" is the result of collaboration between the actors of the world of poetry, contemporary artists and fashion designers. They accepted to support an awareness campaign while supporting a community affected by Hiv-Aids.
Poems or aphorisms selected by "Printemps des Poètes" are rewritten and illustrated by artists and creators, and then hand-embroidered by HIV-positive women in Swaziland.
CONTRIBUTIONS
The artists and designers involved in this project are:
Agnes b, Joel Andrianomearisoa, Carole Benzaken, Robert Combas, Loulou de la Falaise, Maurizio Galante, Antoine Giacomoni, Anne-Valerie Hash, Hassan Massoudy, Misstic, Sakina Msa, Franck Sorbier, and Tony Soulié.
Les broderies ont été montées sur châssis, puis encadrées et cette exposition a été présentée dans les Hôpitaux de l'Assistance Publique ainsi que dans les maisons de poésie, médiathèque, centres culturels, à Paris et en régions.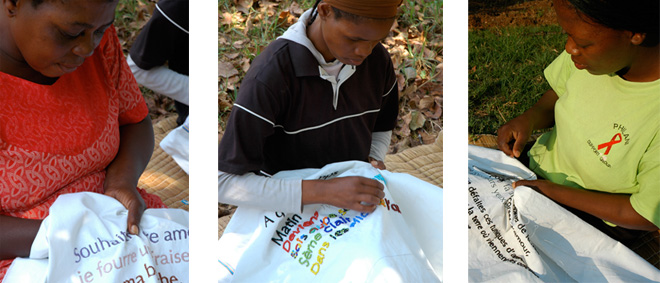 WOMEN FROM FUNDZISA LIVE ASSOCIATION
These women started embroidering in 2005 after being trained by Designing Hope. Their first workshops consisted in expressing their lives through scenes from their daily lives associated to embroidered messages.
Then they began reproducing these messages supporting a campaign against the stigmatization of people with HIV (I Love You Positive or Negative) on T-shirts
In 2007 they took part to the project: "Square of Hope," for which they, created very intricate embroidery from twenty fashion designers (Lacroix, Lanvin, Viktor & Rolf, …) , which were then auctioned to benefit the association.