Figurines Lanvin – Collection 2013 – 2014. Alber Elbaz has entrusted the association the manufacture of figurines and their dresses, miniature replicas of the "Lanvin Petite" collection of the prestigious fashion house. They were sold in all the shops and outlets distributing "Lanvin Petite".
COLLECTORS 
For the second time this year, Alber Elbaz asked Dessine L'espoir to create four limited edition of soft figurines, each of which are dressed in pretty miniature LANVIN Petite outfits.
Each of the figurines were hand-embroidered and stitched by a group of women living with HIV-AIDS, supported by Designing Hope in Swaziland. The project has generate an income for these women for several months.

DRESSES SEWN IN SWAZILAND 
The great inovation this year, consist in having the Swazi women not only sew and embroid the dolls bodies, but also the 4 dresses inspired from the Lanvin Petite collection. Fabric was sent to Swaziland, and women received a special training with instructions from Lanvin to create these 4 stunning outfits.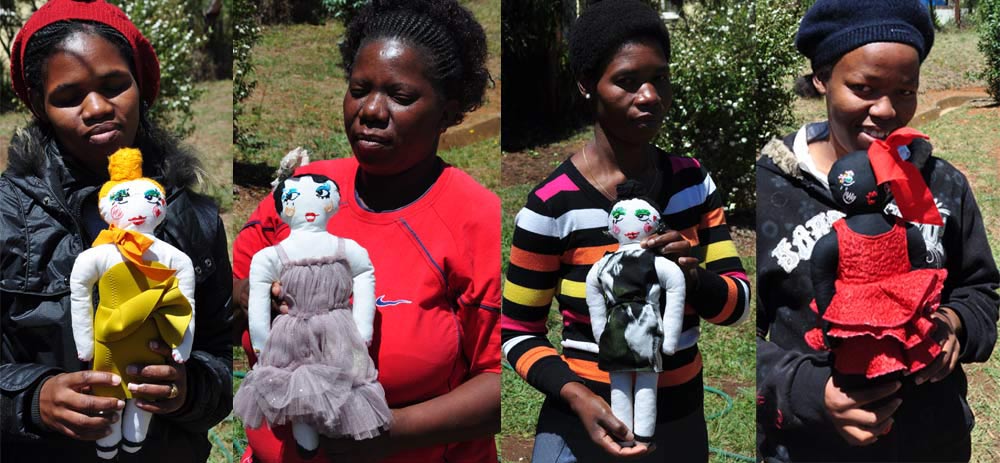 RENEWED COLLABORATION 
Lanvin and Designing Hope have been collaborating several times on different projects, enriching the Fashion Designing Hope project, an approach consisting in soliciting the world of fashion to create original objects made in support groups of people living with HIV in Africa.
DOUBLE IMPACT FOR THE COMMUNITY 
Making dolls is both a resource for women but also contributes to the distribution of school uniforms for disadvantaged children:
Thus, each doll sold by Lanvin finance the production of one school uniform sewn by the same group of women that will be freely distributed to the most disadvantaged children identified by school officials in the region of Piggs Peak.
These precious little faces were sold in all Lanvin boutiques.