THE CAMPAIGN "I LOVE YOU POSITIVE OR NEGATIVE"
As part of the campaign "I Love You Positive or Negative" and the project "Artists4life", Designing Hope has established a program of free distribution of condoms carrying the messages of the campaign and a selection of visual works of contemporary artists involved in this project.
Illustration of the "I love You Positive or Negative" message by Swazi artist Lucky
THE VERY FIRST INITIATIVE
In 2005, French stylist, Agnes b. donated 20 000 condoms to Dessine l'Espoir, packed in artistically designed boxes and carrying the campaign message. Designing Hope distributed them in Swaziland and South Africa. The unique design of the boxes and their distribution has been a real success with targeted populations in South Africa and Swaziland. For the first time, the attractive packagings of the condoms were shown and gave rise to discussions.
The lesson learned was that an innovative packaging can change the gesture of taking a condom in a public place.
Since then, Designing Hope has developed experience in implementing this in several countries, in partnership with local governments.
More than 3 million condoms have been distributed since 2005, as part of this project.
CONDOM PACKS REFLECTING THE CAMPAIGN MESSAGES AND
ARTWORKS
The idea was to pack condoms that were previously distributed directly into their aluminum packaging in boxes unattractive placed on the desk of administrative places or in public toilets.
These packages change the perception of condoms. They also allow easier diffusion in more places. Dozens of visuals packages were designed and messages are systematically selected by the affected populations in each country and region.
These condoms are then placed in dispenser boxes containing 240 condoms.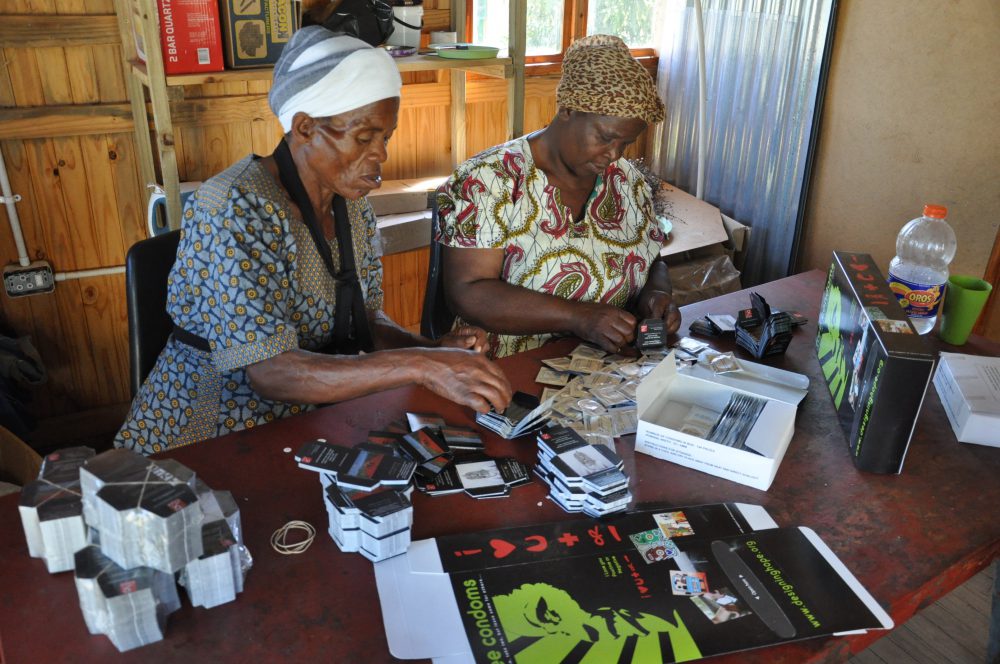 PARTNERSHIP WITH LOCAL AUTHORITIES
Designing Hope has agreements with local health departments to ensure the supply of condoms comply with national regulations.
Designing Hope coordinates and finances the design, the translation into local language, the printing of all the campaign materials (packagings, boxes, but also posters, stickers, flyers…)
In 2007, more than 800 000 condoms have been distributed in South Africa and Swaziland within this program.
This campaign includes the distribution of posters with strong visual elements as well as tv broadcasts presented by the local personalities who support our campaign.
AN INCOME GENERATING ACTIVITY FOR THE VUNERABLE ONES
Members of regional support groups are responsible for packing their cases individual condoms and conditioning in the dispensers.
They are compensated with food parcels for their familles. This task has the advantage of being simple to implement, and accessible to the greatest number, even to people weakened by illness.
To develop a feeling of belonging to the whole initiative and involve the beneficiaries in the project, counseling sessions are held to explain the messages.
Participants are encouraged to comment on posts and on the works.